Making the Decision to Teach
What are the benefits of teaching, other than 13 weeks holiday?
ywtt_admin
2023-10-15T18:26:23+01:00
You'll get more holidays than people in many other professions. In school, full-time teachers work 195 days per year. For comparison, you'd work 227 days per year (on average) if you worked full time in an office.
Leading practitioner salaries
If you are an established and exceptional teacher, and regularly show the highest standards of classroom teaching, you can be put onto a higher pay scale.
Although they may not lead departments, leading practitioners coach and mentor other teachers and induct trainees and early career teachers.
Annual salaries for leading practitioners range from £47,417 to £72,085.
Teachers' pension scheme
The teachers' pension scheme is one of the most generous in the country. It is a 'defined benefit' pension and is:
Based on your teaching salary rather than the amount of money you pay in
Registered with HM revenue and customs- so your contributions are tax free
Flexible and allows you to take some of it as a tax-free lump sum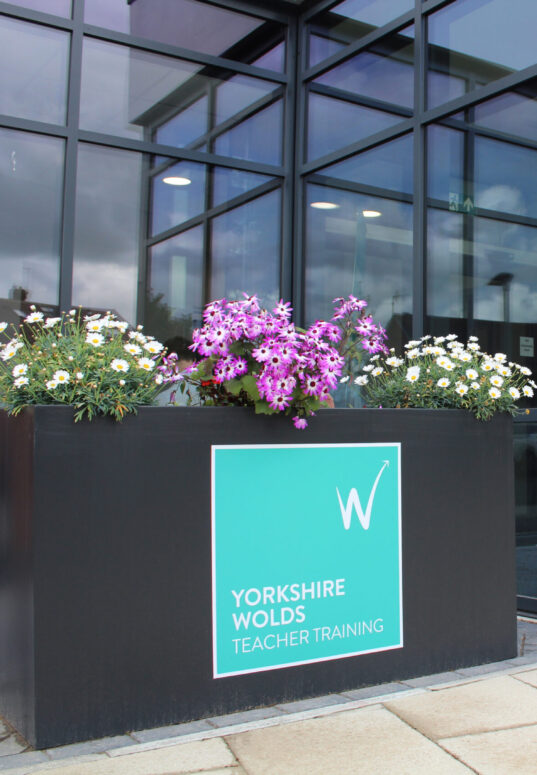 Entry Requirements
Do I need a degree to teach?
ywtt_admin
2023-10-16T21:30:12+01:00
You should be a graduate (or about to graduate this year), preferably with a 1st, upper 2nd or lower 2nd class degree in a subject relevant to the one that you wish to teach.
See more about Entry Requirements
What if my degree isn't in the subject I want to teach?
ywtt_admin
2023-10-16T21:37:19+01:00
Do I need GCSEs in English and Maths?
ywtt_admin
2023-10-16T21:28:04+01:00
You will need at least a Grade 4 (grade C or equivalent) in GCSE Mathematics and English (Language) for secondary training. You will also need at least a C grade (or equivalent) in GCSE Science for Primary Training.
Equivalency testing is available if you do not hold these qualifications.
See more about Entry Requirements
Do I need any previous experience in education?
ywtt_admin
2023-10-19T08:17:31+01:00
You don't need any previous experience in education to apply for teacher training.
To support your application however, we would recommend signing up to one or more of our Get into Teaching Experiences.
Can I train if I have a historic criminal conviction?
ywtt_admin
2023-10-19T08:55:02+01:00
Candidates who are accepted onto the course will be required to complete a declaration regarding criminal convictions and also go through full Disclosure and Barring Service (DBS) checks.
Depending on the offence, having a caution or criminal conviction does not necessarily prevent you from training to teach.
Do I need to complete your 'Get Into Teaching Experiences' before applying?
ywtt_admin
2023-10-19T08:44:21+01:00
No, this isn't a requirement but we would always suggest that you attend one as it gives some school experience which you may find useful.
Is there an upper age limit?
ywtt_admin
2023-10-19T08:21:31+01:00
No, absolutely not. We welcome applications from all age ranges whether you are a recent graduate, a stay at home parent or a career changer. Many of our alumni have been career changes who are now thriving in their teaching roles.
Do you accept overseas trainees?
ywtt_admin
2023-10-19T08:22:28+01:00
We are currently unable to sponsor any overseas trainees or support with visas.
Training with YWTT
How long is the training?
ywtt_admin
2023-10-19T08:23:29+01:00
Our programme starts in September and if you are full time, you will complete the course by July the following year.
Can I train part time or have another job while completing the training programme?
ywtt_admin
2023-10-19T08:24:02+01:00
We are always happy to chat about part time requirements which enable our trainees to work alongside their studies.
What qualification will I receive at the end of my training?
ywtt_admin
2023-10-19T08:25:23+01:00
Once the training has been completed, your portfolio will be assessed by our specialist QTS awarding panel. You will then be awarded Qualified Teacher Status (QTS). If you have also opted to undertake the PGCE, following a successful completion, Sheffield Hallam University will award this.
Will I get Qualified Teacher Status (QTS)?
ywtt_admin
2023-10-19T08:26:19+01:00
Yes. Upon successful completion of the programme, you will be awarded Qualified Teacher Status (QTS).
What is the ratio of classroom-based training to practical teaching experience?
ywtt_admin
2023-10-19T08:28:14+01:00
A typical week will see you immersed in the classroom Monday-Thursday and in our purpose-built training centre each Friday. There will be times when you will be required to attend other settings such as induction week, immersion days and Intensive Training and Practice weeks.
Do I have to travel to YWTT or Sheffield Hallam University?
ywtt_admin
2023-10-19T08:29:11+01:00
All of the Sheffield Hallam sessions are delivered by their team at the YWTT training base, you are not required to travel to Sheffield, unless you wish to attend your PGCE Graduation! You are required to travel to the YWTT training base in Melton, East Yorkshire each Friday and for any additional sessions required.
Can I choose which school I complete my placement at?
ywtt_admin
2023-10-19T08:33:38+01:00
We work with over 70 partner institutions. Many of these are listed when you apply for the YWTT courses on DfE Apply. It is important that the two placements are in different settings to give our trainees exposure to different school contexts. It is possible to request particular schools and we do our best to accommodate these requests, however occasionally it is not possible for a school to offer a placement in a particular key stage or subject. Where this is the case, we will work with you to agree an alternative.
How does YWTT assess the progress and performance of trainee teachers throughout the programme?
ywtt_admin
2023-10-19T08:36:22+01:00
Trainees are supported throughout the programme by their YWTT subject or phase tutor and their mentor in school. These colleagues give weekly developmental feedback to support progress and at pertinent points in the year, trainees present progress portfolios.
At the end of the programme YWTT will make accurate and rigorous final summative assessment for the award of QTS in relation to the Teachers' Standards. Trainees give their final Evidence Portfolio presentations to a YWTT assessor who has not been involved in their formative assessment.
How does YWTT keep up with the latest educational research and teaching methodologies?
ywtt_admin
2023-10-19T08:37:23+01:00
The YWTT team are all expert teachers who through their national work remain at the forefront of educational research ensuring that our trainees receive the highest quality curriculum, with the most recent evidence embedded throughout.
Am I guaranteed a job after graduation?
ywtt_admin
2023-10-15T18:18:55+01:00
Although we cannot guarantee employment after completing your training, we have a priority application process for all YWTT trainees, for any teaching vacancies in The Education Alliance.
We also provide employment application support alongside planned recruitment sessions. The YWTT Leadership Team give bespoke advice on letters of application, conduct mock interviews and give structured advice and feedback.
What is your connection to Sheffield Hallam University?
ywtt_admin
2023-10-15T18:13:01+01:00
Our YWTT PGCE lead works closely with the SHU tutors to ensure the PGCE assignments are accredited to provide trainees with Qualified Teacher Status (QTS).
To enhance our outstanding course, we commission Sheffield Hallam University, (University of the Year for Teaching Quality 2020) to combine our QTS with Masters Qualifications to award a full PGCE qualification.
The PGCE assignments are carefully integrated into YWTT provision, ensuring a coherent training package. PGCE sessions are delivered at the YWTT training base by Sheffield Hallam tutors who will support you through specially designed modules that enable you to analyse your classroom practice in the light of research and educational theory.
Support
What support and mentoring will I receive?
ywtt_admin
2023-10-15T18:15:48+01:00
All trainees receive high quality pastoral care through an embedded tutorial system.
You will be given access to an Employee Assistance Package which includes legal and financial information. Counselling is also available by telephone and online tools are also provided.
How does YWTT support trainee teachers with disabilities?
ywtt_admin
2023-10-15T18:42:52+01:00
Yorkshire Wolds Teacher Training is committed to delivering high quality teacher training that meets the diverse needs of its trainee population, ensuring that no individual or group is disadvantaged. All Yorkshire Wolds trainees are allocated a tutor who will work with each individual throughout the programme, celebrating progress, devising bespoke programmes to respond to individual needs and helping them overcome the challenges they may face.
Additional Support Plans and Wellness Action plans are discussed and implemented where appropriate. This system has effectively supported past trainees with a variety of needs, including dyslexia, physical, hearing and visual impairments.
How does YWTT support trainee teachers in managing workload and maintaining a healthy work-life balance?
ywtt_admin
2023-10-19T08:39:23+01:00
Our tutor support systems coupled with our professional studies curriculum give trainees the skills knowledge and guidance required to manage their time and thrive in their career. Our systems are designed to reduce workload wherever possible and our trainees feel that our tutor system offers invaluable support and guidance.
Many of our alumni are in leadership positions, showing they skills they acquired have enabled them to effectively balance the demands of teaching with a healthy home life.
What opportunities are there for networking and collaboration with other trainee teachers?
ywtt_admin
2023-10-19T08:40:26+01:00
Each YWTT cohort provide peer support to each other, this can be trainees in your subject area or phase. You will have the opportunity to meet with your tutor group to network and collaborate.
How does YWTT support trainee teachers with finding employment after completing the program?
ywtt_admin
2023-10-19T08:43:08+01:00
The YWTT Leadership Team is committed to supporting all trainees into employment. This includes conducting mock interviews, reviewing and providing feedback on applications and completing references.
At YWTT, our door never closes to our alumni and we are always happy to support trainees applying for their first teaching post or our alumni when they are applying for promoted posts.
Finance
What does the course cost?
ywtt_admin
2023-10-15T17:35:18+01:00
Tuition fees for our programmes are £9250.
You can pay for these using the student loans system or you can find them yourself. If you are self-funded, please see the YWTT Fee Policy for details on the payment terms.
Am I eligible for a bursary or scholarship?
ywtt_admin
2023-10-15T17:36:18+01:00
Can I apply for a student loan?
ywtt_admin
2023-10-15T17:36:49+01:00
You may be eligible for maintenance and tuition fee loans to help you with the costs of teacher training, these vary dependent upon a number of factors, including household income, so please visit the Student Loans Company website for more information.
Have a question not answered here?