Gain Qualified Teacher Status (QTS) & a Post Graduate Certificate in Education (PGCE) in Secondary Education via our Engineers Teach Physics Programme.
Continue your engineering career by getting into the classroom and use your skills and passion to inspire the next generation.
We need more physics teachers!
Without them children are missing out on the opportunity to develop their understanding of the world around them. Engineers bring a unique and innovative perspective into the physics classroom, helping to explain big things to young minds.
We want to train a diverse range of physics teachers who can pass on their knowledge in exciting and interesting ways to inspire the engineers of the future.
Engineering the future
Engineers and physicists help find solutions to some of our biggest problems. From climate change to next generation prosthetics, we need their problem-solving skills and creative thinking to help us survive some of the biggest challenges humanity has ever faced.
The more great physics teachers we have in the classroom today, the more children will grow up inspired to become the physicists, engineers and physics teachers of tomorrow.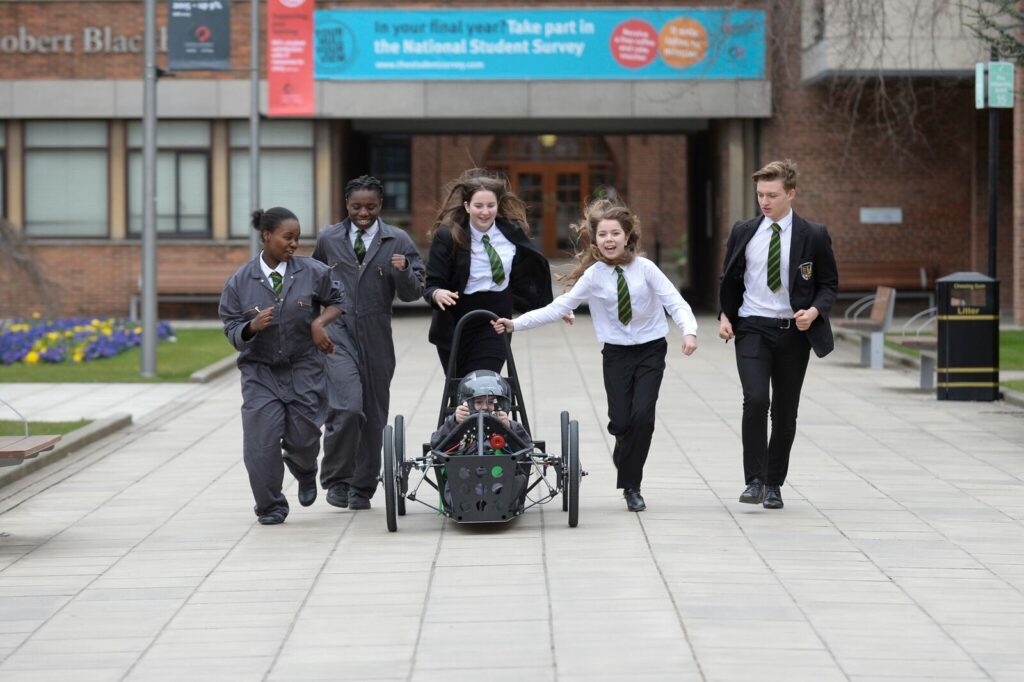 The Programme
If you have an engineering background but would like to bring your skills to the classroom and become an inspirational physics teacher, then our outstanding Yorkshire Wolds Teacher Training programme is the course for you. Studying at YWTT gives you a fantastic start to your teaching career, our innovative programme blends evidence based research and educational theory with immersive practice in the classroom, giving you the opportunity to gain QTS and a PGCE awarded by Sheffield Hallam University.
The YWTT engineers teach physics programme has been coherently designed and sequenced to support you to develop the skills and knowledge required to become a highly effective, evidence informed teacher, able to change the lives of the children you teach. It contains three overlapping components delivered through integrated strands.
Learning to teach

Professional Studies Programme
School Based Training Programme

Learning to teach a subject

Subject Immersion Programme
School Based Subject Training Programme

Learning to be a teacher

Professional Development Programme
PGCE Programme
Supported Self Study Programme
The professional studies programme is delivered by teaching experts some of whom work for national education organisations.
You will work closely with your YWTT tutor, an excellent teacher and an engineer himself, who will support your development throughout the course. They will meet with you weekly to gain a deep understanding of your specific needs and progress, allowing them to design and deliver bespoke intensive training placements in their school.
If you're concerned about how well you know physics as a subject, do not worry – you'll be able to do a 'subject knowledge enhancement' (SKE) course  that will provide you with the training and support for any gaps in your knowledge.
School placements are carefully structured to ensure the gradual development of your teaching across both primary Key Stages. Spending Monday to Thursday in school allows you to continually apply and refine your developing knowledge and skills. Your mentor in each placement school will support you daily, giving you regular formative feedback through observation and weekly mentor meetings. They also work closely with your tutor to design and deliver the school based training programme.
Our team of science subject tutors design a bespoke subject specific curriculum which includes sessions on effective practical work, a visit to the National STEM centre and input from the Royal Society of Chemistry and the Institute of Physics. They also support your subject knowledge development through an audit and associated suite of subject knowledge enhancement materials, thus ensuring you are well equipped to teach chemistry and also have the skills necessary to effectively teach aspects of the other sciences, enhancing your employability.
Engineers Teach Physics is a new one-year PGCE (QTS) initial teacher course. It has been tailored to support trainees with a background in engineering and material science.
The course will focus on physics subject knowledge that engineers and materials science graduates are not likely to have studied at undergraduate level.
The course will also utilise the fantastic practical experience and knowledge that engineers have, which can help to make physics teaching come alive.