Yorkshire Wolds Teacher Training offers undergraduates in their first, second or third* year of a STEM or languages degree, the opportunity to take part in our paid internship scheme (£300 per week) to learn about teaching Maths, Physics, Computing, Chemistry and/or MFL at secondary school level.
* Third year undergraduates can apply if they have not had their application for teacher training accepted. Applicants undertaking 4-year integrated-master's, industry year or part-time courses are also eligible.
Registrations of interest are currently being taken for our 3-week paid internship programme to be delivered in June 2024.
Register your interest below or if you have any questions, please email our Director of Employability, Sarah Barley (sarah.barley@theeducationalliance.org.uk).
Experience a real teaching environment
The internships are 3 weeks-long and coordinated through Yorkshire Wolds Teacher Training and are available at some of our partnership schools.
Our partnership schools are located across Hull and The East Riding of Yorkshire and we will work with you to find a placement school as close to you as possible.
During your internship at Yorkshire Wolds Teacher Training you will have the chance to learn alongside outstanding teachers and mentors and benefit from a carefully planned and structured training programme to prepare you to plan and teach your own lessons and develop your own resources by the end of the placement.
Yorkshire Wolds Teacher Training
East Dale Road, Melton, HU14 3HS
Driffield School and Sixth Form
Manorfield Road, Driffield, YO25 5HR
Beacon Academy
Chatsworth Pl, Cleethorpes, DN35 9NF
Beverley Grammar School
Queensgate, Beverley, HU17 8NF
Bridlington School
Bessingby Road, Bridlington, YO16 4QU
Cottingham High School
Harland Way, Cottingham, HU16 5PX
Hessle High School
Tranby Lane, Hessle, HU13 0JQ
Holderness Academy and Sixth Form College
Station Road, Hull, HU12 8UZ
Hornsea School and Language College
Eastgate, Hornsea, HU18 1DW
Howden School
Derwent Road, Howden, DN14 7AL
Kings Mill School
Victoria Road Driffield YO25 6UG
Malet Lambert
James Reckitt Avenue, Hull, HU8 0JD
The Snaith School
Pontefract Road, Snaith, DN14 9LB
South Hunsley School and Sixth Form College
Eastdale Road, Melton, HU14 3HS
Winifred Holtby Academy
Midmere Avenue, Hull, HU7 4PW
Withernsea High School
Hull Road, Withernsea, HU19 2EQ
Wolfreton School and Sixth Form College
Well Lane, Willerby, HU10 6HB
Airmyn Park Primary School
Percy Drive, Airmyn, DN14 8NZ
Alderman Cogan's Church of England Primary Academy
Whitworth Street, Hull, HU9 3HJ
All Saints Church of England Infant Academy
Northolme Road, Hessle, HU13 9JD
All Saints Church of England Junior Academy
Northolme Road, Hessle, HU13 9JD
Anlaby Primary School
First Lane, Hull, HU10 6UE
Bay Primary School
St Alban Road, Bridlington, YO16 7SZ
Beeford Church Of England Voluntary Controlled Primary School
Main Street, Driffield, YO25 8AY
Biggin Hill Primary School
Biggin Avenue, Hull, HU7 4RL
Boothferry Primary School
Newport Street, Goole, DN14 6TL
Brough Primary School
Springfield Avenue, Brough, HU15 1AE
Cavendish Primary School
Cavendish Road, Hull, HU8 0JU
Cleeve Primary School
Wawne Road, Hull, HU7 4JH
Cottingham Croxby Primary School
Bricknell Avenue, Hull, HU5 4TN
Driffield Church of England Voluntary Controlled Infant School
St John's Road Driffield YO25 6RS
Driffield Junior School
Bridlington Road, Driffield, YO25 5HN
Driffield Northfield Infant School
Southfield Close, Driffield, YO25 5YN
Elloughton Primary School
Stockbridge Road, Elloughton, HU15 1HN
Gillshill Primary School
Cavendish Road, Hull, HU8 0JU
Inmans Primary School
Inmans Road, Hull, HU12 8NL
Hook Church of England Primary School
Garth Lane, Hook, DN14 5NW
Hornsea Community Primary School
Newbegin, Hornsea, HU18 1PB
Howden Junior School
Hailgate, Howden, DN14 7SL
Hutton Cranswick Community Primary School
The Green, Driffield, YO25 9PD
Keldmarsh Primary School
Woodmansey Mile, Beverley, HU17 8FF
Keyingham Primary School
Russell Drive, Hull, HU12 9RU
Kingswood Parks Primary School
School Ln, Hull, HU7 3JQ
Marfleet Primary Academy
Marfleet Lane, Hull, HU9 5RJ
Market Weighton Infant School
Princess Road, Market Weighton, YO43 3EY
Maybury Primary School
Maybury Road, Hull, HU9 3LD
Molescroft Primary School
St Leonards Road, Beverley, HU17 7HF
North Cave Church of England Primary School
Station Road North Cave HU15 2LA
Patrington C of E Primary Academy
Southside, Hull, HU12 0RW
Penshurst Primary School
Winthorpe Rd, Hessle, HU13 9EX
Riston C Of E Primary School
Main Street, Hull, HU11 5JF
Selby Community Primary School
Flaxley Road, Selby, YO8 4DL
Sigglesthorne Church of England Primary Academy
Main Street, Hull, HU11 5QA
Spring Cottage Primary School
Dressay Grove, Hull, HU8 9JH
Sproatley Endowed Church of England Academy
Balk Lane, Hull, HU11 4PR
St Mary's CofE Primary School
Eden Road, Beverley, HU17 7HD
Swanland Primary School
Tranby Lane, Swanland, HU14 3NE
Swinemoor Primary School
Burden Road, Beverley, HU17 9LW
Thanet Primary School
Tedworth Rd, Hull, HU9 4AY
Walkington Primary School
Crake Wells, Beverley, HU17 8SB
Woodmansey CE Primary School
Hull Road, Beverley, HU17 0TH
Hunsley Primary
Bluebird Way, Brough, HU15 1XB
You will be offered the chance to take part in a series of masterclasses on Differentiation, Resource Development, Safeguarding and other professional responsibilities of teachers whilst also engaging in discussions with a range of school staff and leaders to explore the various career paths and specialisms which exist in schools at classroom teacher and senior management level.
The programme outline will consist of masterclasses on lesson planning, resource building, differentiation, behaviour management and safeguarding, which include:
a combination of teaching, running projects, offering support for students who may require intervention
structured training, shadowing and lesson observation followed by a chance to co- plan and deliver lessons
access to one-to-one mentors who are good or outstanding classroom teachers in their specialism
opportunities to network with qualified subject specialists and local employers
the chance to develop resources for our charity school in Kenya to support the professional development of teachers overseas
The design of our programme will also include measures to support and encourage you as an intern to apply for teacher training in the future. This will include;
continued contact with our Internship Coordinators
support to make an application for ITT (Initial Teacher Training)
a Guaranteed Interview Certificate, which guarantees you an interview for any ITT places that YWTT advertise in the future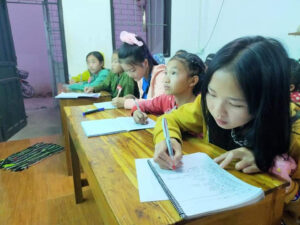 What do our past interns say?
"My time at Yorkshire Wolds was really valuable to me as I learned so much about how to teach effectively in such a short time. One of the biggest things for me was realising just how much work goes into planning a lesson – there were a lot of techniques that I took for granted when I was a student myself. My internship gave me a new appreciation for my own teachers, as well as for profession as a whole."
"I just wanted to email and say thank you really, thank you for the opportunity, for your honesty and insights and the great teachers you've given us the opportunity to speak to. It has been a great two weeks and has made me even more determined then I already was and excited to start looking for teacher training. Thank you!"
"When I received the email from Mrs Sarah Barley notifying me that I had been accepted onto the internship, I was in two minds about following through with it. The internship was due to commence on 14th June and my final university deadline was on the 11th June. I was unsure whether I wanted to take some time to wind down instead of jumping onto this internship – but within the first two days of week 1 I knew that following through with it was one of the best decisions I have made. I knew it would be a great experience but not for one second did I imagine it to be as useful and valuable as this bespoke programme Sarah and her colleagues delivered. Often at university there would be some classes scheduled where I think – wait was this necessary or useful – but I cannot say this about a single session on this internship. Every session throughout the 4 weeks was extremely useful and valuable – even the assignments that were set! I must add that the feedback on assignments was speedy – considering Sarah was teaching her own classes and in meetings throughout the programme. This bespoke programme allowed to me gain a REAL insight into teaching, where we delved into almost everything involved in being a teacher- not just about teaching a STEM subject. We had masterclasses ranging from how to create and deliver starter and plenary activities to the role of a teacher when teaching students with SEND. We even had masterclasses with employers such as HOTA and Siemens Gamesa, which was interesting as it gave us the opportunity to learn about local employers and how teachers can incorporate this information into their lessons. I really hope this programme continues to be delivered in the future as even though it was virtual – I do not think I would have learnt as much as I did if I was visiting a school for a few weeks. I know the staff worked very hard to allow us to conduct lesson observations over Teams which were incredible. All the teachers were amazing, helpful, approachable and were open to questions at all times. I loved the fact that Sarah scheduled sessions to meet with both the Head of Maths at South Hunsley and the Director of Maths across the trust, as this was a great opportunity to ask questions to experienced teachers in a more informal manner. Whether in a pandemic or not – I would strongly recommend this programme to anyone considering teaching. I came into this programme unsure about whether I wanted to pursue a career in teaching or venture into something else, but I am leaving this programme knowing that teaching is truly the career for me."
"It has been a great 4 weeks for me, I have gained an understanding of teaching in more depth, the classes and observation sessions were also greatly valuable, offering many new experiences and techniques which I will be able to use not only in teaching. I would really recommend it if anyone is thinking of going into a career of teaching."
"I really appreciate all the help and guidance I have received from both YWTT and Molescroft Primary and I have enjoyed the past 2 weeks of the internship. I am looking forward to applying for teacher training and hopefully (fingers crossed) a career in teaching! 😊"
"Thank you for this incredible internship! I have thoroughly enjoyed my time and have learnt so much in these past two weeks! Attending these lessons has given me a better idea about the different styles of teaching, and what are some of the challenges teachers face. However, it definitely feels encouraging to know that it's because teachers like you have made such a positive impact on students' lives."
"The only way to describe the experience that was offered to me, is it's the cherry on top of a cake. I have always known that I wanted to be a biology teacher in a secondary school. This week not only allowed me to deal with different situation, challenges from both children and teachers. The children that went out their way to ask why I wasn't a teacher? Also, with teachers saying they can't wait to work with me has really made me more determined to do teaching as a career. Thank you."
"Honestly the week of placement was brilliant, and I really enjoyed working with people of different ages. These 2 weeks have really clarified that I want to work in a secondary school. I really appreciate all the information about teaching and the opportunity you gave me in 2 weeks. Thank you so much."
"The YWTT internship has given me a very positive and honest look at the teaching profession. The staff involved were so dedicated to sharing as much information as they could about the role and were really supportive in improving our skills. Staff were happy to answer any question thrown at them, with a balanced, thoughtful response. I loved how varied the masterclasses were, including planning, behaviour management and creating resources. The classes helped me to the put observations into context and make the most of being in a classroom. Lastly, the course is really satisfying in that it gave me the opportunity to make resources for real children, it was lovely hearing about how students did with the work we made."
"The 3-week Internship Program with YWTT was beyond insightful. I'm very glad to have had the opportunity to observe and learn so much about the teaching profession in such a short but enriching period. The first week's lessons on teaching were an excellent prelude to the variety in the taught classes I observed within the placement school; both were most enjoyable. From this I have learnt a variety of techniques that I'm sure will be useful in many aspects of life especially should I wish to continue to get my PGCE – to which this internship has given me a greater acumen. Finally, I would like to state how inviting, knowledgeable, and insightful the people I have met during the 3 weeks have been (teachers, staff, students and other interns included) and that I holey believe if you wish to get a better understanding of what teaching entails this internship has and will provide that. Thank you YWTT."
Want to know more about YWTT before applying?
Listen to our podcast on Spotify, showcasing a number of interviews with newly qualified teachers and interns from this programme.
In your first, second or third year of a STEM or languages degree?

Considering a career in teaching?

Interested in teaching Maths, Physics, Computing, Chemistry or MFL at secondary school level?

Want some experience of being in a classroom?

Available in June 2024 for 3 weeks?

Would like to earn £300/week?